Pupil Premium
Our Vision - We believe that all children have a right to achieve their full potential whatever their individual circumstances. Through placing inclusion at the heart of everything we do, we aim to break down barriers to achievement, promote high aspirations and celebrate the contributions and successes of every child.
What is Pupil Premium?
The Pupil Premium is additional funding given to schools so that they can support specific groups of pupils who may be at risk of underachievement. Nationally there is a gap in attainment between children who are eligible for Free School Meals and their peers. The main purpose of the Pupil Premium is to close this gap by raising the achievement and aspirations of disadvantaged groups of children. The Pupil Premium is intended to help schools to provide targeted support to improve the life chances of these children so that they can reach their full potential.
Who is eligible for the Pupil Premium?
Free School Meals
The Pupil Premium is allocated to schools for pupils who are known to be eligible for Free School Meals (FSM) or who have been eligible at any point in the past 6 years. In 2022-23, the school will receive £1385 for each eligible pupil.
This will apply if you receive any of the following:
Income Support
Job Seeker's Allowance (income-based)
Employment and Support Allowance (income-related)
support under part six of the Immigration and Asylum Act 1999
the Guarantee element of State Pension Credit
Child Tax Credit - providing you are NOT entitled to Working Tax Credit and your family's annual income (as assessed by HMRC) is not more than £16,190 (as at 6 April 2012)
Working Tax Credit 'run-on' - the payment you may receive for a further four weeks after you stop qualifying for Working Tax Credit
Universal Credit (provided you have an annual net earned income of no more than £7,400, as assessed by earnings from up to three of your most recent assessment periods)
If you think your child may be eligible for the Pupil Premium, please click here.
Please apply even if you do not want your child to have a Free School Meal as the school will really benefit from the Pupil Premium funding.
Looked After Children
Pupil Premium is also allocated for children who have been looked after by the local authority continuously for more than 6 months as well as children who have been adopted. In 2022-23, the school will receive £2410 for each Looked After Child/ Previously Looked After child.
Services Children
A smaller Pupil Premium grant is also allocated for children whose parents serve in the armed forces or who have done so in the last six years. For more information on the Services Premium, please see our Service Premium section of the website.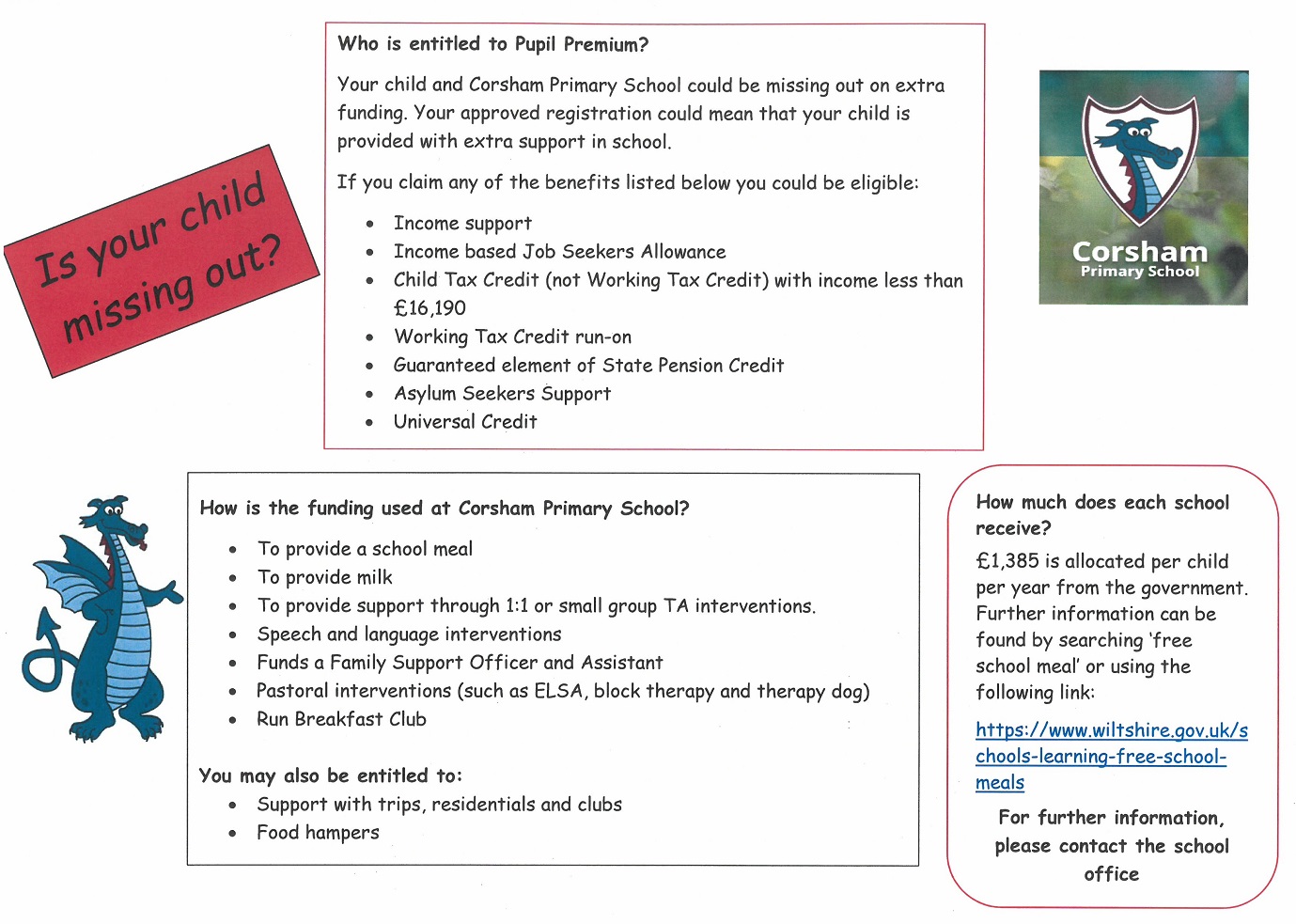 How is the Pupil Premium used at Corsham Primary School?
A Pupil Premium manager is employed to:
Ensure that the needs of individual Pupil Premium children are met
Organise and manage specific support interventions within and outside of the classroom where appropriate
Report to parents, governors and teaching staff
Ensure everyone involved is aware of current information regarding Pupil Premium and provide training where necessary
Monitor the academic progress of Pupil Premium children
The Pupil Premium Manager provides a range of support that includes:
Working with and alongside parents
Working with and alongside a range of professionals from different support groups
Providing emotional support for both pupils and adults
Working 1:1 with pupils and in small groups
Providing specific funding needs for families
Organising and funding specific educational events
Organising and leading a range of events for Service Families including a monthly lunch time club
Providing a range of resources to support Service families including communication packs during deployment
How can parents and carers contribute to the success of the Pupil Premium scheme?
If your child is eligible for free school meals, it is worth registering them even if they're not going to have the school lunch. It will have a direct impact on the funding and will maximize the support we can provide.
Parental support and involvement is a key factor in raising standards. If you would like help or advice with supporting your child, please contact our Pupil Premium Leaders; Mrs Jo Smalley (Pound Pill) or Jenny Metcalfe (Broadwood).
Pupil Premium Strategy
Below is a link that will take you to our published Pupil Premium strategy. In this document you will find information about:
Our school's pupil premium grant allocation amount for 2022/2023
A summary of the main barriers to educational achievement faced by eligible pupils at Corsham Primary
Our plans to spend the pupil premium to address these barriers and the reasons for our approach
How we plan to measure the impact of the Pupil Premium for 2022/2023
http://www.wiltshire.gov.uk/schools-learning-free-school-meals